Product Description
Combine harvester steel knife guard is formed and machined to the exact dimensions and hardened to the specified hardness assures maximal performance on today`s high capacity harvesting machinery. The selection of the best forging steel and the appropriate hardness in point, ledger and body of the forged guard result in a guard that does not bend, break or wear prematurely. The total heat treatment process converts the steel structure to the desired combination of hardness and toughness.

Precision machining of the knife slot and other wear surfaces of the forged guard are absolutely necessary to have best section to guard ledger contact.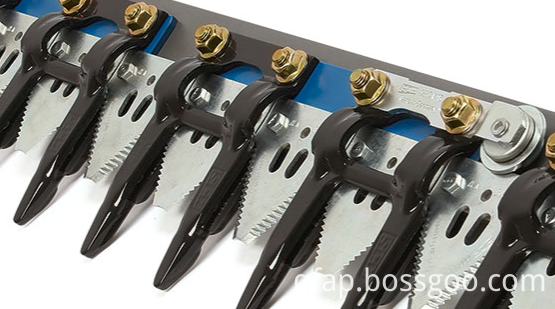 Advantages of our combine harvester steel knife guards:
- Reasonable material selection
- Precision machining resulting in best fit and cut
- High quality heat-treatment control
Why choose QFAP?
We have specialized in producing high precision mechanical parts more than 12years, got 6years experience on harvester / tractor/ mower machinery spare parts, such as spindle, spindle housing, tube fitting, pulley, link pin, knife guard, impeller, bearing housing, coolant pump housing, etc.
All of our cooperators are large bearing companies, mower companies or agricultural equipment companies, most of our products are shipped to North America, Europe and Chinese domestic market.
Because of the long term cooperation, we could supply our customers not only the products but also our recommendation on the designs to saving costs.
To meet your demand, we are a manufacturer, also we are a designer.